Love at First Sight is a romantic drama film released on Netflix. In this film, you will get to see the Heartfelt story of a girl named Hadley Sullivan. This is a UK and United States-based Romantic drama film, that is available in English, Hindi, and many other languages.
Hadley Sullivan, who is going to London to attend her father's second wedding. She misses the flight and gets stuck at John F. Kennedy Airport in the US for another flight. Then at the airport, he meets a British boy named Oliver. Hadley needs to charge her mobile, and Oliver gives her the charger. Gradually, both of them start talking, and then both of them travel to London, sitting side by side on the same flight.
Further, while having fun and making love with each other on the flight, both of them fall in love and when the flight lands at London airport, Oliver gives his phone number to Hadley but Hadley is unable to save Oliver's number, and her phone gets damaged.
Later, it is shown how Hadley and Oliver are able to meet each other again and what difficulties they have to face. In this post, we'll go into depth regarding the parts each character plays in the movie as well as their whole biographies, including both their personal and professional lives.
Film Name
Love at First Sight
Genre
Romance and Drama
Based on
"The Statistical Probability of Love at First Sight" Novel
by Jennifer E. Smith
Country Of Origin
United States and United Kingdom
Original Language
English
Dubbed Language
English, Hindi, French, Portuguese, German and Police
Film Length
1h 31m
Age Rating
U/A 16+
Film Director
Vanessa Caswill
Screenplay by
Katie Lovejoy
Production Companies
ACE Entertainment
Release Date
15 September 2023
Distributed by
Netflix
Netflix Love at First Sight Cast Crew
Netflix Love at First Sight Cast
Haley Lu Richardson as Hadley Sullivan
Haley Lu Richardson plays the role Hadley Sullivan. Hadley Sullivan is the lead actress in this film who want to travel from New York To London for attending his father's second marriage. Haley Lu Richardson is popular American actress who was born on 7 March 1995 in Phoenix, Arizona, U.S.
As of 2023, Haley is 28-Year-old. She is best known for the popular Movies The Edge of Seventeen (2016), Columbus (2017), and Operation Finale (2018). She is available on Instagram with 2.2 million followers. Her Instagram ID is "haleyluhoo".
Ben Hardy as Oliver
Ben Hardy plays the role of Oliver, who is main actor of the film. Oliver met to Hadley Sullivan in the J.F. Kenedy airport New York. Oliver and Hadley travel together Newyork to London. Both are them fall in love for each other.
Ben Hardy was a British actor who was born on 2 January 1991 in Bournemouth, Dorset, England, UK. As of 2023 he is 32 years old. He is best known for the movie X-Men: Apocalypse (2016), 6 Underground (2019), and Unicorns (2023). He has 984 K followers in his Instagram Account. His Instagram ID is "benhardy".
Jameela Jamil as Narrator (voice)
Jameela Jamil is not playing any character in this film but she give her voice as Narrator. Jameela is a British actress whose full name is Jameela Alia Jamil. She was Born on 25 February 1986 in London, England, UK.
As of 2023, Jameela is 37 years old. She is best know for How to Build a Girl (2019), Marry Me (2022), and TV Series She-Hulk: Attorney at Law (2022). Her Instagram ID is "jameelajamil".
Sally Phillips as Tessa Jones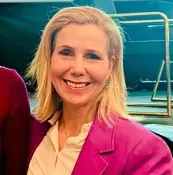 Sally Phillips plays as role of Tessa Jones. Sally Phillips is a British actress, comedian and TV host who was born on 10 May 1970 in British Hong Kong. Her Full name is Sally Elizabeth Phillips. As of 2023, she is 53 years old.
She is best known for the movies Bridget Jones's Diary (2001), Bridget Jones: The Edge of Reason (2004), Boy Town (2006), and The Rizen (2016). She is on Instagram with 113 K followers. Her Instagram ID is "sallysmack".
Rob Delaney
Rob Delaney
David Rubin as Dr. Harrison Doyle
Tom Taylor as Luther Jones
Andromeda Godfrey as Cate Sullivan
Jayda Eyles as Young Hadley
Dexter Fletcher as Val
Jessica Ransom as Bridesmaid Bertie
Tracy Wiles as Mrs. O'Callaghan
Ibinabo Jack as Bridesmaid Shanti
Katrina Nare as Charlotte
Julia Westcott-Hutton as Cyclist
Jenna Kerns as Gate Agent
Crystal Wingx as Divorced Woman
Anastasia Zabarchuk
Read More:- Ehrengard: The Art of Seduction 2023 Cast Real Name, Photo, Bio, Fac
References/Sources